Thank You for Choosing

Celebrate with Balloons!!

Let us know how we can turn your

special occasion into a memory

that will last a lifetime!!!

All sales are final.

There will be a $30.00 fee on any returned check

Booties and Bows

As shown $56.99

Bouquet only $ 36.99  

  This wonderful bouquet is what every mom needs and will welcome that new baby. It has a 35" Baby Booties micro foil balloon, 2-18" heart for a girl and round for a boy micro foil balloons and 3-16" Latex balloons with bows. We've add a bag of size one diapers and beautiful bow and a pair of shoes on top.

You may choose a different weight option at check  you could choose a  decorative balloon weight or a bag of candy.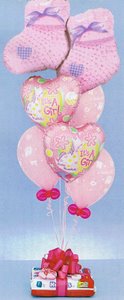 Add a Message in a Bottle for only

$3.99

Add a special touch to your gift with your personal message rolled up inside the bottle.

Click on bottle to see your options.